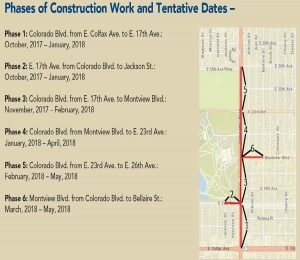 From: Finehout, Jason <Jason.Finehout@denverwater.org>
Sent: Thursday, October 19, 2017 8:21:18 AM
To: Susman, Mary Elizabeth – CC City Council Elected; Herndon, Christopher J. – CC City Council Elected; Brooks, Albus – CC City Council Elected; New, Wayne C. – CC City Council Elected
Cc: Stauffer, Heather L.; Kline, Genevieve M. – City Council; Luke.Palmisano@denvergov.org; Schoultz, Amanda M. – CC City Council District 08; Guillen, Bonnie K. – CC City Council Aide; Montoya, Chy – City Council District 9; Horn, Melissa A. – CC City Council District 10; Lapel, Emily – CC City Council Central Office
Subject: RE: Water Main Replacements on Colorado Boulevard, Montview Boulevard, East 17th Avenue
Good Morning City Council Members,
I wanted to update you on our water main project along Colorado Boulevard, Montview Boulevard and East 17th Avenue. The city has approved our permit and we have started moving equipment into the area of Colorado Boulevard and Colfax Avenue to start our work on Phase 1 of the project. For the next two months we will be moving north on Colorado Blvd. from Colfax Ave. to E 17th Ave. A map with our phases and timetable is attached.
Our main work hours will be 7pm-5am Sunday nights through Fridays morning. However, we will have sporadic work during 8:30am-3:30pm as well. One important update is that there will be no traffic impacts during the morning and afternoon rushes. We will prepare the road and remove our equipment so that ALL lanes will be open on Colorado Boulevard from 5 a.m. to 8:30 a.m. and 3:30 p.m. to 7 p.m. every day.
Work Times and Impacts:
· 8:30am-3:30pm Monday-Friday. We will be fully replacing lead and galvanized water service lines during the day which will require closure of the easternmost NB lane during the day. MHT 9 is attached showing the closure during the day.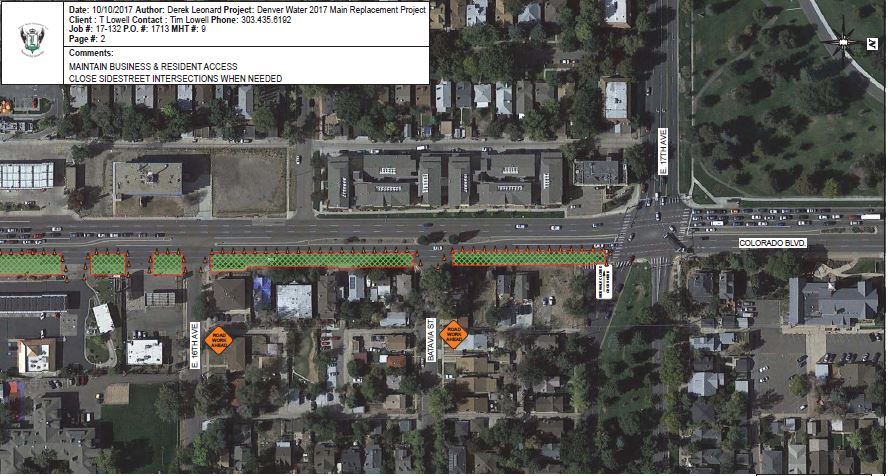 MHT 9 Colorado Blvd. Pipe Replacement
· 7pm-5am on Sunday, Monday, Tuesday, Wednesday, Thursday nights. The water main we are replacing is near the middle of Colorado Blvd. so the two westernmost northbound lanes and the easternmost southbound lane will be closed. MHT 1.1 is attached showing night work.
MHT 1.1 Colorado Blvd. Pipe Replacement
· We are also closing access to E 16th Ave. and Batavia Pl. from northbound Colorado Blvd. MHT 17 is attached showing this. We are only closing a small piece of these streets for storage of equipment and we will not block access to driveways or alleys.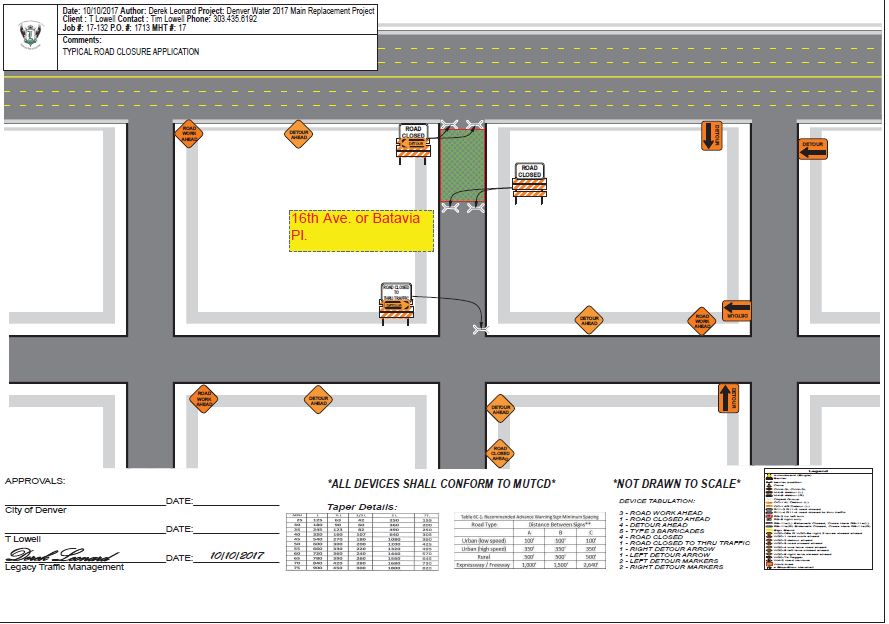 MHT 17 Colorado Blvd. Pipe Replacement
· No lanes closed from 5am-8:30am and 3:30pm-7pm any day.
· No work will occur on Friday night, Saturday day/night or Sunday morning/afternoon.
Please let me know if you have any questions.
Thanks!
Jason