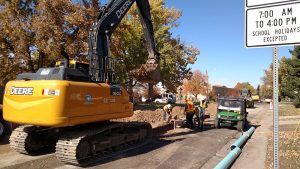 Milwaukee Street, from 6th Avenue to 13th Avenue
Start mid – late March
About 7 months to complete
Detroit Street, from 6th Avenue to 10th Avenue
Estimated Start – 2nd or 3rd Quarter 2018
About 4 months to Complete
UPDATE!!! March 21, 2018 A notice to customers along Detroit Street from 6th – 10th Ave has been sent out. Eddie Hernandez estimates that they will start doing work there within 2 months.
What to expect during construction
Before work begins, Denver Water will take photos of the front of your property so we can restore it to pre-construction condition.
We will place no-parking signs in the work area.
Street parking will not be available during working hours.
Sand bags will be placed on curb grates to protect and manage stormwater.
During construction, Denver Water crews will have equipment stored at the worksite and will work in phases to dig a a trench and install the new water main
Afterward contractors and Denver Water employees will pave over the trench and provide a one-time restoration of landscape to its pre-construction condition.
For more project information: please visit denverwater.org/Pipes or call Denver Water Customer care, Monday – Friday, 7:30 a.m. to 5:30 p.m. at 303-893-2444.
View project updates at www.nextdoor.com.
Questions?
Contact: Eddie Hernandez, P.E.
Phone: 303-628-6563
Email: eddie.hernandez@denverwater.org
374 total views, 1 views today