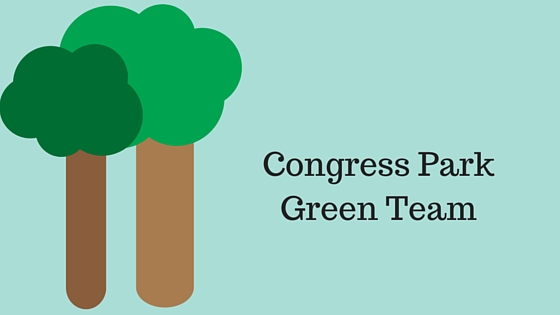 On January 9, 2016 14 neighbors came together to kick off the Congress Park Neighbors Green Team. Initial team members included artists, art therapists, Master Gardeners and Composters, landscape architects, recyclers, sustainability experts, mapping experts, realtors and other enthusiastic neighbors. Since then over 50 neighbors have joined the green team to work together on projects that will help take care of our neighborhood and our planet.
What We Do: At the first meeting, the green team identified several initial projects including alley clean-ups, pollinator art and projects, hosting an Earth Day event, sustainable landscape education, composting and recycling education, and developing a map of sustainability resources. Longer term goals include an environmental film series, educational workshops and a seed bank. In April, we held our first big event: Regeneration! Earth Day Festival 2016 with over 200 participants. By June, the CPNGT applied for and was accepted into the City of Denver Sustainable Neighborhood Program in support of Denver's Sustainability Goals for 2020. Participation in this program will provide general support for our green events and workshops, and recognition about the sustainable nature of our neighborhood. Please read the proposed initiatives described in these Green Team pages. Better yet, Join Us!
The Congress Park Neighbors Green Team (CPNGT) functions as a committee under Congress Park Neighbors. Residents, local businesses and partners are all invited join the green team. Your ideas and enthusiasm are welcome.
The CPNGT holds a monthly general business meeting, and additional meetings as needed for various events.
For more information, contact Green Team Co-Leaders Liz Goehring and/or Becky Coughlin by email at sustainability@congressparkneighbors.org.
Sign Up For Green Team News
Join Green Team Face Book Group
855 total views, 2 views today