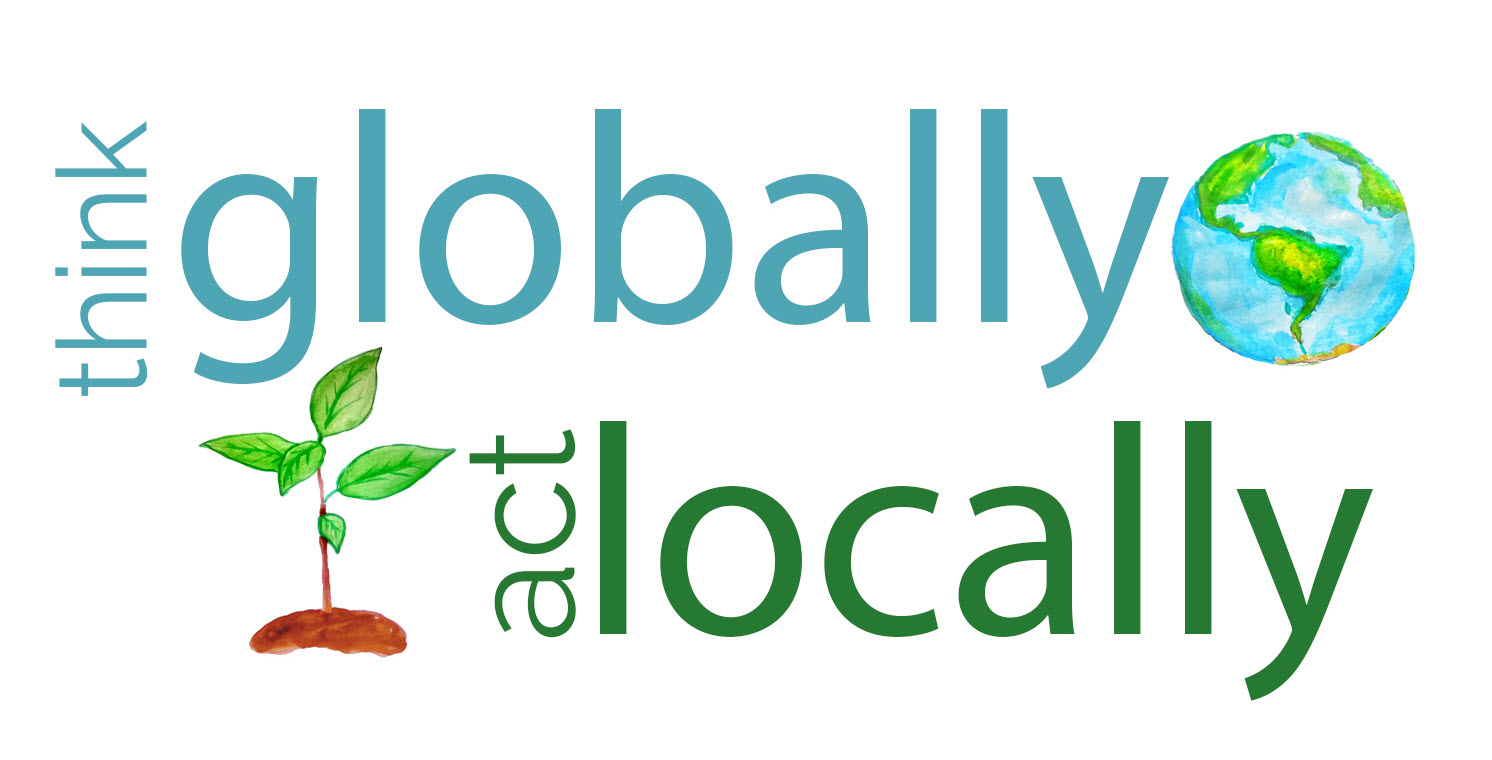 2nd Annual Congress Park Earth Day Festival
Saturday April 22, 2017 1:00 to 5:00 pm

1100 Fillmore St
Denver, CO 80206
Festival will go on indoors at 1100 Fillmore St!
Press button for map to festival
Map To Capital Heights Faith Communities
Transportation Options In CPN
Printable Poster and Flyers
Thank you to Andrew Ouellette, Graphic Designer for designing our gorgeous festival poster! Download and print your own full-size poster or 1/4-page flyers.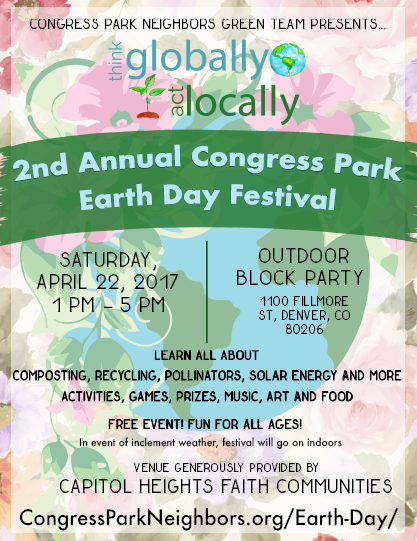 About the Festival

Congress Park Neighbors Green Team presents a free Earth Day neighborhood party on Saturday, April 22, 2017 from 1 pm to 5 pm. The event is FREE and open to the public, and will be held at Capitol Heights Faith Communities on 1100 Fillmore Street. This year's theme is "Think Globally, Act Locally!"
Fun for all ages! Join us for music, food, art, games, activities and prizes. Learn how to think globally by learning about global climate change and by writing notes of welcome, appreciation, and inclusion for our local refugee community. Learn how to act locally through hands-on exhibits about pollinators, recycling, composting and so much more!
Find out what the Congress Park Neighbors Green Team has been up to! Learn about our initiatives, talk with neighbors to get answers and volunteer with us.
Many thanks to our Summit Sponsor, Capitol Heights Faith Communities, for providing the venue and meeting space for the Green Team.
Our Theme: Think Globally, Act Locally!
This year's theme was chosen because we are working to mobilize Congress Park neighbors to take action right here under our feet. These actions also help the City of Denver meet our citywide Sustainability Goals. By doing our part, we are having a positive impact on our neighborhood and the world.
Getting There
Buses: #10 (12th Avenue), #6 (8th Avenue), #40 (Colorado Blvd), #15 (Colfax)
B-Cycle Station at 1200 Elizabeth St
Carpool! Allow time to find street parking on 12th Avenue or in neighborhood
11th Avenue will be closed from Fillmore St to Milwaukee St.
Festival Visitors Guide
Bring your own reusable water bottle and/or coffee cup to reduce waste.
Food and drinks are available. Donations suggested to support Denver Food Rescue.
Play our Scavenger Hunt game! Visit as many of the 20 booths as possible and commit to making change to earn points
Use points at prize table to win prizes.
Kids: Visit the youth art and face-painting booth!
Enjoy the music!
Bad weather? No problem! Festival will go in indoors, instead.
Learn about the Congress Park Neighbors Green Team and sign up to get involved!
Take an Action! Win a Prize!
Thanks to our generous donors for prizes! Make a commitment at the festival to take an action and play for a prize! Play our Scavenger Hunt game by visiting as many exhibits as possible to earn credits.
Arrive early, participate and win a prize!
Win a gift card for local food and drink:
Win a gift or service from local businesses:
Music
Local musicians will be performing throughout the festival. The tentative schedule includes:
Hop on an Energy Bike and pedal! Help us power the sound system! Energy Bikes generously provided by EnergiSimple.
Food
Help us raise money to support Denver Food Rescue!
Food and drinks available at no cost but donations are encouraged. Donations will go to support Denver Food Rescue. Bring a reusable coffee cup and/or water bottle to earn a ticket and play for prizes!
Exhibits
Learn how to act locally by talking with experts and neighbors at over 20 themed exhibits. Many of our exhibits are collaborative efforts, bringing you more expertise and fun!
CONGRESS PARK NEIGHBORS GREEN TEAM
Booth: Welcome and orientation. Find out about our green team activities and how to get involved. Contribute to our neighborhood green asset map.
Prize Table: Redeem your tickets for prizes.
Call to Action: Sign up to get green team newsletter, volunteer, or contribute to asset map.
AFRICAN REFUGEE WELCOME
Booth: Welcome Notes for Refugees. Write notes of welcome, appreciation, and inclusion for our local refugee community. ACC will deliver your notes of encouragement!
Call to Action: Sign up for ECDC ACC's newsletter and for our advocacy group. "Like ACC" on Facebook.
ALLEY CLEAN-UP
Congress Park Neighbors Green Team
Booth: Information about how to do clean up your alley or your block on the Great Denver Cleanup date of May 21, 2017 or anytime!
Call to Action: Sign up to do an alley clean up.
BICYCLE TUNE-UPS
Booth: Bicycle Repairs – Free minor adjustments, flat repairs, bike spirit! Drop by to get your chain lubed, tires pumped up, bolts checked.
Call to Action: Ride your bike!
CLIMATE ACTION
Accelerate Climate Action brings climate action to the neighborhood level

Booth: TBD
Call to Action: Attend a community forum.

Citizen's Climate Lobby, South Denver Chapter

Booth: Learn about our Carbon Fee and Dividend Proposal.
Call to Action: Support the passage of a fair, effective, and sustainable climate solution.
COMMUNITY GARDEN PLANTING
Capitol Heights Faith Communities Community Garden is a resource by and for the community.
Booth: Plant a seed in the garden.
Call to Action: Come back to care for and weed around your seed.
COMMUNITY SUPPORTED AGRICULTURE (CSA) AND SMALL FARMS

Booth: Learn about options for getting local produce every week through a Colorado CSA.
Call to Action: Sign up to get more information or sign up for a CSA
COMPOSTING
Congress Park Neighbors Green Team
Booth: Backyard Composting: Come chunk some "green" compostable materials in our model compost bin. Then cover it up with "browns" to keep the critters out and smells in!
Call to Action: Sign up to get help setting up your own backyard composting bin.
ENVIRONMENTAL EDUCATION
Booth: General environmental education information
ENGINES OFF
St Ignatius Loyola Denver: Care for Our Common Home Team
Booth: Engines Off. Learn how turning your engine off is one of the easiest and most effective ways to improve air quality. Separate fact from myth at this booth's activity.
Call to Action: Sign Pledge to Stop Unnecessary Vehicle Idling
FOOD WASTE REDUCTION AND FOOD EQUITY

Denver Food Rescue increases health equity in Denver by reducing barriers to fresh, healthy food in low-income and food deserts communities.

Booth: Make smoothies using our bike blender while learning about food waste.
Call to Action: Sign up for DFR's newsletter to learn what you can do to reduce food waste.

Fresh Food Connect is an app that allows home gardeners to donate extra produce to people in their community who need it.

Booth: Ugly Produce Photo Booth. Learn about how home gardeners can help combat hunger and food waste in your community!
Call to Action: Sign up for Fresh Food Connect.
FORESTRY
Denver Parks and Recreation, Forestry

is the City agency responsible for trees in public parks, parkways and other public property.

Booth: Be A Smart Ash Learn about Emerald Ash Borers.
Call to Action: Develop a plan for dealing with their ash tree when Emerald Ash Borer arrives.

The Park People works to preserve, enhance, and advocate for Denver's parks, recreation resources, open space and urban forest.

Booth: Speak for the Trees …and the Parks! Trivia quiz and paper Lorax mustache reminders to speak for the trees.
Call to Action: Sign-up to receive the Park Bench newsletter, to request low-cost trees, and/or information about volunteer opportunities.
GREEN BUSINESS
City & County of Denver: Certifiably Green Denver
Congress Park Green Team
Booth: Interactive trivia game about strategies for greening businesses and list of local Certifiably Green Businesses
Call to Action: Commit to visiting a Certifiably Green Denver business within 30 days.
Green Door Fitness (Certified Green Business)
Booth: Green Door Fitness invites visitors to participate in a community clean up to get exercise and clean up our surroundings.
Call to Action: Commit to go for a hike!
HOME ENERGY EFFICIENCY & ALTERNATIVE ENERGY
Congress Park Neighbors Green Team
Denver Energy Challenge: Residential energy efficiency program at the City and County of Denver. Energy advisors help residents save energy and money through this voluntary program.

Booth: Guess how much energy various lights and appliances use. Explore options for improving your home energy efficiency and reducing your carbon footprint.
Call to Action: Sign up for visit with a solar provider. Change to LED for home lighting. Pledge to install an insulated outlet insert to save energy.
KITE MAKING
LANDSCAPING
Front Range Wild Ones is dedicated to preserving, restoring, and creating environmentally sustainable landscapes and gardens with an emphasis on native plants

Booth: Match the Pollinator with the Flower
Call to Action: Sign up for the Wild Ones newsletter . Become a part of Wild Ones to enhance your own yard or outdoor space as well as be part of the movement.
POLLINATORS
People and Pollinators Action Network works in Colorado to protect people, pollinators and the planet.

Booth: Play a fun game while learning about how to protect butterflies, bees and other pollinators.
Call to Action: Take the Pollinator-Safe Planting Pledge.
Monarch Joint Venture coordinates monarch research initiatives.

Booth: Purchase a t-shirt to support monarch research.
RAINBARRELS AND ECO-FRIENDLY HAND-MADE NATURE PRODUCTS
EarthLinks

Booth: Rain barrel and EarthLinks hand-made eco-friendly products for sale
Call to Action: Volunteer with EarthLinks or sign up for the newsletter.

Congress Park Neighbors Green Team

Sign up for Apr 25 Rainbarrel and Water Conservation Workshop.
RECYCLING
Congress Park Neighbors Green Team
Booth: Recycling Roundup: Test your knowledge for sorting your trash!
Call to Action: Commit to increase your recycling. Commit to better recycling by knowing recycling guidelines.
SEED CIRCLE BOOK AND MOVIE DISCUSSIONS
Congress Park Neighbors Green Team hosts book and movie discussions geared toward helping us learn about an issue, then deciding how we can take action.
Booth: Learn how to reduce your plastic pollution, inspired by our "Plastic Purge" SEED Discussion.
Call to Action: Commit to at least one activity over the coming month to reduce water consumption and/or use of plastics.
SEED STARTING
Congress Park Neighbors Green Team
Booth: Choose seeds, plant them, water them and take them home to watch them sprout and grow. Seed starting can spur a life-long enthusiasm for nurturing the plants that nurture them. Experiment with starting more challenging plants in the future.
Call to Action: Plant your baby plants at home,
SENSORY GARDEN
Congress Park Neighbors Green Team
Booth: Use all your senses to connect with plants that we use in a sensory garden.
Call to Action: Sign up to volunteer to help with the Sewall Sensory Garden.
VEGAN EATING
Congress Park Neighbors Green Team
Booth: Do you know which foods are vegan? Play our game! Get recipes and learn about the benefits of vegan eating.
Call to Action: Give veganism a try by going vegan once a week.

WILDLIFE
Booth: Learn how the welfare of human beings is deeply linked to nature — to the existence in our world of a vast diversity of wild animals and plants.
Call to Action: Sign a pledge. Write a postcard to your elected official.
YOUTH ART TABLE
Congress Park Neighbors Green Team
Booth: Participate in face painting, design nature hats, learn about wildlife and paint or draw animals.
Call to Action: Talk to friends about what they can do at home to help planet.
Volunteer With Us!
Volunteers are needed now and on the day of the event to help make this event a success! Check out our volunteer application form for more details.
Volunteer with Us!
Thank You to our generous sponsors!
Summit Sponsor
for providing year-round meeting spaces and festival venue
Forest Level Sponsor ($500 and up)
Tree Level Sponsors ($250)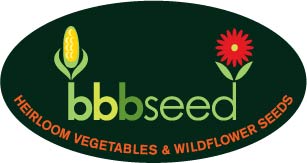 Sapling Level Sponsors ($100)
Berenice's (for prize donations)

Jim & Teresa Toomey in memory of Gerry Magnie

Trader Joe's (for fruit basket prize and food for event)
Sprout Sponsors (In-kind Donations)
Become a Sponsor or Donate a Prize
Show your commitment to environmental stewardship and support our efforts! Whether you are a local or eco-friendly business, or an individual, we welcome your contribution! Register by March 15, 2017.
Donate an eco-friendly prize to use as a giveway at the event or as part of our sustainability programs.
Help us by promoting the event to your networks and become a promoting sponsor.
Contribute food or equipment and become an in-kind sponsor.
Make a cash donation of $100, $250 or $500. This money helps us pay for advertising and other tools to make the event and our sustainability initiatives successful.
Sponsor and Prize Donor Info and Sign-Up
Getting There
Walk!
Take the bus: #10 bus runs one block away from the venue. #15 Colfax bus runs four blocks north of the venue. #6 bus runs on 8th Avenue, just three blocks south of the venue.
Carpool: Park on 11th or 12th Avenue.
Zero Waste
We are working to achieve certification as a Certifiably Green Event. We ask exhibitors and visitors to help us meet this standard by reducing the amount of landfill waste generated. See the exhibitor application for more details.
Exhibitor Booth Registration: Closed
The deadline to apply was March 10, 2017. Registration is free but space is limited. Exhibitor booths are open to schools, youth groups, nonprofits, government agencies and farmers, as well as Congress Park area Certifiably Green Businesses. Each booth must have a fun and engaging learning activity to help teach ways to green our neighborhood and our world!
Exhibitor Requirements and Application
Previous Festival:
Congress Park and Beyond:
Earth Month Activities April 2017
17,004 total views, 4 views today