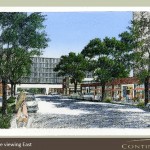 To our 9th and Colorado redevelopment neighbors:
As with any development and construction project, there will be instances where the surrounding neighborhood could be impacted (i.e. traffic alterations, noise, etc.). The 9th and Colorado team will strive to keep everyone informed of upcoming activities that may impact you.
We will make efforts to identify major upcoming activities, but please recognize that the 9th & Colorado redevelopment is a large and complex effort and there will be times where construction activities and logistics change.
Below is the construction activity anticipated for this month, beginning the week of March 1, 2017:
735 total views, no views today