From: "Scott M. Gilmore – PR Parks and Planning – PP" <Scott.Gilmore@denvergov.org>
To: "Timothy M. O'Brien – Auditor's Office" <TimothyM.OBrien@denvergov.org>, "Kathleen MacKenzie – Auditor's Office" <Kathleen.MacKenzie@denvergov.org>
Cc: "Scott M. Gilmore – PR Parks and Planning – PP" <Scott.Gilmore@denvergov.org>,
Sent: Monday, November 28, 2016 10:13:23 AM
Subject: FW: Park Designations follow up
Hello Auditor O'Brien and Ms. MacKenzie,
Here is some follow up information related to Park Designation. I wanted you to have this as the Round 8 Designations are moving onto City Council tonight. I have also attached the Parks Designation Policy which has been approved, signed, and published making it an official Policy of DPR. I have CC'd the members of the INC Parks and Recreation Designation Committee who have been instrumental in helping support these efforts. I wanted to publicly thank them on all their hard work.
I have attached the most recent DPR inventory which includes categories of all properties managed by park. The total acreage of these acres totals 6222 acres. When you remove medians (135 acres), parkways (189 acres), and Natural Resource Management Zones (428 acres consisting of South Platte, Cherry Creek, and some Gulches) which are not eligible for parks designation, from this list you get the Park Designation Status list which comes to a total of 5470 acres. The percentage of designated parkland is based on total parkland (on the Designation list), not just the eligible land. Eligibility can change, that's why we are not using that for the metric of percent designated.
Just as an FYI here is the proposed list for Round 9 designation for next Spring.
Aqua Golf
Overland Pond Park
Southwest Recreation Center Grounds
Confluence East Park
Lindsley Park (partial)
Unnamed Asbury & Tejon Park (partial)
Some interesting facts on Park Designation and acreage added during this administration.
Designations before and during Mayor Hancock's Administration
Designation of parkland from 1956 to 2012 – 56 year time span: approximately 600 acres
Designation of parkland from 2013 to 2016 – 4 year time span: approximately 1030 acres
During the Hancock Administration, from 2013 – 2016, 625.1 acres of new parkland has been added to Denver Parks.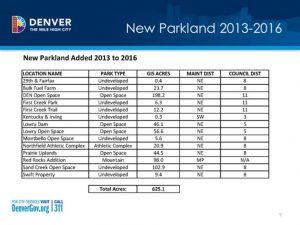 If you have any additional questions please do not hesitate to give me a call on my cell or follow up with an e-mail. Thanks for all you support on these on-going efforts.
Scott Gilmore | Deputy Executive Director

Parks & Recreation | City and County of Denver
720.913.0665 Phone | 720.837.0489 Cell
Scott.Gilmore@denvergov.org
November 28 2016 Designations
Parks Designation Policy November 2016
1,406 total views, 1 views today

2,119 total views, 2 views today