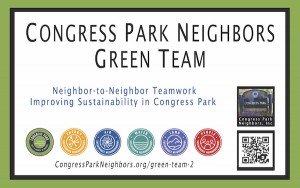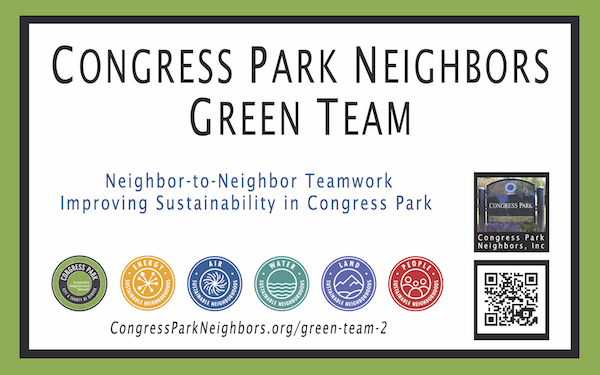 Who We Are: A group of Congress Park Neighbors working together on projects that will foster sustainable living in our neighborhood and beyond. Join us!!
What We Do: The Congress Park Neighbors Green Team has been working in the Congress Park neighborhood since January 2016. Green Team members organize community events like Home Energy Savings and Recycling workshops and Earth Day Festivals to promote sustainable living practices throughout the neighborhood. In June 2016, Congress Park joined Denver's Sustainable Neighborhoods Program and by June 2017 reached "Outstanding Sustainable Neighborhood" status. Many thanks to all the Congress Park Neighbors who work to help our neighborhood achieve this designation!
Climate Action Forum: Living sustainably takes an on-going commitment. In October 2017, to identify sustainability projects of highest interest to neighbors, the Green Team hosted a Climate Action Forum in collaboration with Accelerate Neighborhood Climate Action and the Sustainable Neighborhoods Program. Neighbors participating in the Forum identified four critical areas for action in the coming two years:
Click on an area to see what actions are planned and consider getting involved.
To view the full report, click CPNGT – Climate Action Forum – SUMMARY -Dec-11-17.
How we function: The Green Team functions as a committee under our registered neighborhood organization, Congress Park Neighbors, Inc. Congress Park residents, local businesses and partners are all invited join the Green Team. Your ideas and enthusiasm are welcome.
The CPNGT publishes a (mostly) monthly newsletter, holds bi-monthly general business meeting, and hosts additional meetings as needed for special events. See Calendar below. A Steering Committee supports CPNGT efforts including communications and membership support. For more information, or you are interested in getting involved, please contact Green Team Co-Leaders Liz Goehring and/or Becky Coughlin by email at sustainability@congressparkneighbors.org.
Read Current and past Green Team Newsletters
Sign Up For Green Team News