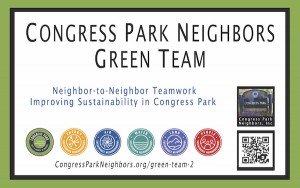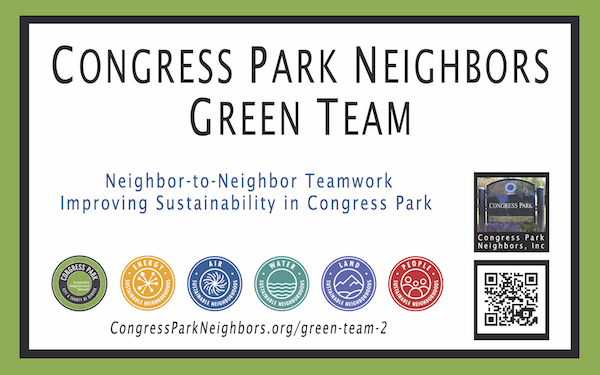 IN THIS ISSUE

Upcoming Events:

America Recycles Day Workshop (11/15)
"The Great Divide" film screening (12/1)

Ongoing Event: CPN Leaf Drop program
"Many Hands" Alley Cleanup earns CPN 6 credits
The Wag Shop earns Green Certification – Congrats!
"Accelerate Climate Action" Workshop Report
"Thanks, Tom!" East Montclair President shares tips with CPNGT
CPNGT November Meeting (11/12) Preview
Help Wanted: Communications/Social Media expertise
Thank You's!!! – Einstein Bagels
Congress Park Neighbors Green Team (CPNGT) is a committee of
Congress Park Neighbors Inc.
CALENDAR
November 7 – CPNGT Steering Committee Meeting, 6-8:30 PM, 738 Columbine
November 12 – Green Team Meeting, 8:30-11AM, Capitol Heights Presbyterian Church
November 14 – 2016 Sustainable Denver Summit, 9AM-5PM, Sheraton Denver Downtown
November 15 – "America Recycles Day" Workshop, 6-8PM, Capitol Heights Presbyterian Church
December 1 – "The Great Divide" Film Screening, 6-8:30PM, New World Cheese Shop, 2504 E Colfax
Upcoming Events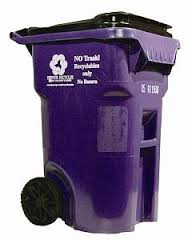 "America Recycles Day Is Here" – A Denver Recycles Workshop
Workshop Date: Tuesday, 11/15/2016 6:00-8:00PM
Workshop Location: Capitol Heights Presbyterian Church Social Hall,
1100 Fillmore Street
For more info: Yvonne Salfinger (yhale@aol.com)
Plan to attend this interactive presentation followed by questions and answers session. Topis will include recyclables, common mistakes people make with recycling, compost, upcoming events, and web resources. Help make your Congress Park Neighborhood an even better place to live, and have a chance to ask your most burning questions about the Denver waste-stream and what happens to your trash.
SEED Circle – "The Great Divide" – A film about Water in the West
SEED (Sustainability – Educate, Explore, Discuss) Circles are open events where neighbors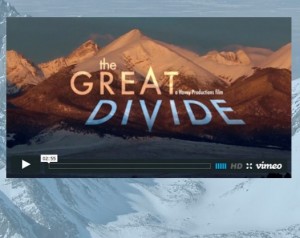 gather to learn about a topic and then discuss actions to take, both individually and as a neighborhood. Join the CPNGT in its first SEED Circle on the topic of Water. At this event, we'll view the film "The Great Divide' and then discuss how it relates to us, our neighborhood and our city.
SEED Circle Date/Time:  Thursday, December 1st, 6:30PM-8:30PM**
SEED Circle Location: New World Cheese Shop, 2405 E. Colfax
For more info: Liz Goehring (lizg313@gmail.com)
**Come early to enjoy some of New World Cheese Shop's tasty fare and network with neighbors. Did you know that New World Cheese is a Denver Certified Green Business?!?!
Ongoing Event:
CPNGT Leaf Drop – Help Keep CPN Leaves Out of Landfills!
– Emily Hunter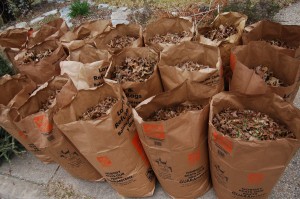 The CPN Green Team is working to help CPN get our leaves to the Denver Leaf Drop this year. The City program keeps leaves out of the landfill and instead converts them into compost. Help spread the word to your neighbors!
Bagged leaves can either be dropped off at a local volunteer's house OR picked up by a volunteer (drop offs and contact info for pick up provided below). Bagged leaves will then be transported to a Denver Leaf Drop site, or added to local compost sites. Note: If you see leaves in the alley, ask your neighbor if they know about the CPNGT Leaf Drop; we'll be happy to collect their leaves too.
The neighborhood program will run through the end of the Denver Leaf Drop, December 2 @ 2 PM.
We can also still use more sites and volunteers to transport. Please contact Emily to arrange (720.668.5660)
Drop off only sites:
738 Columbine St. – leave bags between sidewalk and curb. Please do not leave on lawn.
1332 Elizabeth St. – leave bags in parking space adjacent to garage. Please do not obstruct path to compost pile under tarp.
Drop off and transportation (the following neighbors can be contacted to pick up directly from your property.):
Kelly Bitner: 1144 Harrison St., South side of house. 303.941.6572
Emily Hunter: 2636 E 11th Ave., East side of house, tree lawn. 720.668.5660 Please do not obstruct sidewalk.
CPNGT Note: Many thanks to Emily, Kelly and other volunteers for this important effort!
P.S. Get a coupon for 5 free paper bags from ACE Hardware on the Denver Leaf Drop website.
P.P.S If you need leaves for your own compost pile or garden, feel free to grab a bag or few of leaves from these drop off sites – but please let us know how many you take as we are keeping track of the number of bags collected for the Sustainable Neighborhoods Program.
"Many Hands Make Light Work" – A Successful Alley Cleanup Event
– Becky Coughlin & Meg Sippel
Congress Park Neighbors within a four block radius recently came together to spruce up their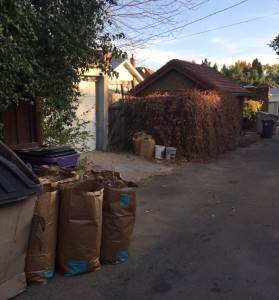 shared alleys between the 600 and 700 blocks of Elizabeth Street and Columbine Street.   Meg Sippel, representing the 600 blocks of Elizabeth and Columbine Streets and Becky Coughlin, representing the 700 blocks of Elizabeth and Columbine Streets hosted an Alley Cleanup event on Saturday, October 22, 2016, from 9am-11am.  This community event brought together 17 neighbors of all ages armed with rakes, brooms, shovels, and bags.   Within less than two hours, the "many hands" that came together for this event eliminated litter, unsightly weeds, fallen leaves and more, transforming two Congress Park alleys into attractive and safe community environments.  Some of the participants also planted local wildflower seeds in the alley ways (thanks Kimberly Rickards!) – if all goes well, flowers will emerge next Spring helping to make the alley ways more attractive.
The event was sponsored by the Congress Park Neighbors Green Team, and earned the neighborhood 6 credits towards its Sustainable Neighborhood Certification. The city program gives our residents the opportunity to become active partners in making Denver a vibrant and sustainable community. Many thanks to these CPN neighbors for helping reduce our ecological footprint and enhancing the livability of our neighborhood.
Fall is the perfect time to hold an Alley Cleanup Event.   Interested in sprucing up your alley?
It's fun, it's easy and it's a rewarding event to share with your neighbors. Contact Becky Coughlin to learn more.  A "How to Conduct Your Own Alley Cleanup Event" guide is in the works and will be posted on the CPN website soon.
Congratulations, Wag Shop!!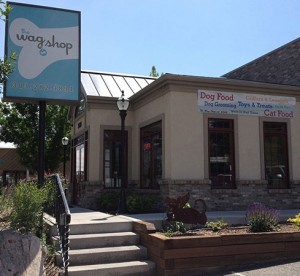 You heard it here first – The Wag Shop has just earned its certification as a Denver Green Business. Denver's first green dog grooming business, and now the fourth Congress Park Neighborhood business to "Go Green."  Congratulations!!
In a future eNewsletter issue you'll hear more about the ways the Wag Shop is greening their business with sustainable business practices (e.g., locally sourced products, handmade dogbeds made from re-purposed materials). But for now, please join the CPNGT in congratulating the Wag Shop for their green efforts. Better yet, stop in the shop and congratulate them in person!  Way to go, Wag Shop!!
Where are they?  2626 East Colfax Avenue
Their new mission statement: "To provide the best grooming experience and retail products for our customers, using as many environmental-friendly practices and products as possible."
Check them out!!

"Accelerate Climate Action" Workshop Report
– Yvonne Salfinger

On October 22, 2016, Capitol Hill United Neighborhoods (CHUN) held a Climate Action Forum at the CHUN Community Center in Capitol Hill.  The purpose of the forum was to pilot a new approach to fostering sustainable climate action at the neighborhood level. Congress Park was represented by CPNGT members Larry Grimm and Yvonne Salfinger along with three other CPN neighbors.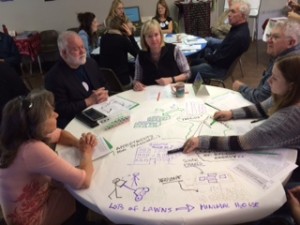 The Forum invited neighborhood delegates to present issues they felt were negatively impacting climate. The forum focused on getting attendees to think about why protecting our neighborhoods is important as well as what "green" changes could be introduced in neighborhoods.
Maria Talero, Climate Courage Education and Organizing, introduced "Cool Blocks" and the the Cool City Challenge (www.coolcitychallenge.org),  a neighborhood climate action program being piloted in LA, San Francisco, and Palo Alto, CA.  Cool Blocks helps neighbors become planet-friendly, disaster-resilient, and community-rich.  Block-based teams meet eight times in each others' homes over a four-month period to adopt lifestyle practices that:
Reduce carbon emissions
Increase disaster resiliency
Improve health and safety
Share resources
Build neighborhood connection
Core programs have been shown to reliably motivate neighborhood block teams to reduce carbon and water footprints by >25% in just 5 months.  (Boulder's Climate Smart campaign calls for 22% reduction in for the city as a whole.)  Using the Cool Blocks model as a foundation, CHUN groups brainstormed ways an imaginary neighborhood of 2020 could be successful in climate action. Groups also identified potential roadblocks that might be hinder success. In the afternoon, neighborhood action teams develop proposals for action.  Proposals included participation in the Energy Challenge, asset mapping, and communication with HOAs and area businesses about climate action.
Jerry Tinianow from the Mayor's Office also previewed the upcoming Sustainable Denver Summit 2016 (on November 14) and the City's commitments to action. City resource partners were available for discussion.
An important dialogue has started, and can now move forward into the individual neighborhoods.
Stay tuned!
Congress Park Neighbors Green Team Meeting
Saturday, November 12, 9-11 am**
Capitol Heights Presbyterian Church
1100 Fillmore
Please plan to attend the upcoming CPN Green Team meeting on Saturday, November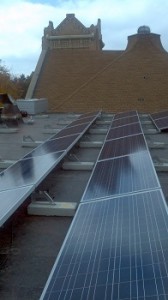 12th.  After a brief update on CPNGT projects and Steering Committee report, we'll spend the rest of the meeting learning about how Alley Cleanups can be a successful way to engage our neighbors in "sustainable neighborhood" activities. Becky Coughlin will preview the new "How to Organize Your Own Alley Cleanup Event" guide, and then we'll try it out on the alley behind the church.
Please bring your gloves, rakes and brooms! Bring a friend! 🙂
** Come early for coffee and bagels, and a chance to visit with your neighbors/friends (8:30 – 9:00 am)
Tom Fesing, East Montclair Neighborhood Association President shares tips with CPNGT on participation in SNN Program.
Many thanks to Tom Fesing for visiting with the CPNGT at our last Green Team meeting. Tom's neighborhood, East Montclair, joined the Sustainable Neighborhoods Program in January 2016, and already has over 200 credits – that's TWICE what is needed for "Outstanding Sustainable Neighborhood" certification. Way to go, East Montclair!!
Eager to learn some of the secrets to their success, the CPNGT invited Tom to join our meeting and share tips. Some of Tom's tips included:
Let residents run the program and organize the activities. That's where the passion come from.
Use Social Media (Facebook, Twitter, Nextdoor) to reach neighbors, and keep Posts current.
Don't forget going door-to-door, particularly for events like block cleanups.
Be sure to include "Green Team" efforts in any/all RNO events, using that as an opportunity to tell people about these efforts. Include a link to Green Team in the RNO's newsletter.
Involve local businesses in events, and be sure to "follow" them on Facebook.
Add an online "suggestion box" for neighbors' ideas and feedback.
For more detail on Tom's visit with us, check out the Green Team meeting notes on the CPN Green-Team website page(https://www.congressparkneighbors.org/green-team-meetings/).
Thanks so much, Tom, for sharing your time and experience with us! Greatly appreciate it!
Communications Posting – Help Us Look Good
The CPNGT is still looking for communications help, particular in the "social media" arena. We're excited about everything the Green Team is working on and want to share it with the Congress Park community.
We are looking for people who would like to help with the following roles: collecting articles and stories for our newsletter and website; maintaining the Green Team page on the Congress Park Neighbors website; posting event and meeting announcements on social media; providing overall content management.
Our hope is that this should only take a few hours a week. We appreciate any and all help you can provide, whether it's for a day, a week, a month, or a year. If you're interested in volunteering or just want to learn more, please contact Lisa Loranger.
Thank you, Einstein Bagels!!
Did you know that Einstein Bagels has been donating extra bagels and cream cheese to our CPNGT meetings? Both the Kentucky Blvd & Colorado Blvd location AND the 8th and Colorado Blvd location have made donations. Special thanks to new District Manager, Brent McVeigh, for agreeing to do this on an ongoing basis.
Special note to CPN neighbors: Consider stopping by Einstein Bagels (they're right around the corner!) and thanking them in person. Their bagels are delicious!!!
Merci beaucoup!                 Gracias!!                 Tak!